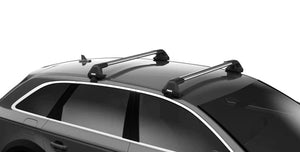 What is the Best Type of Roof Rack?
So you want to know what's the best kind of roof rack?

Unfortunately there isn't a straightforward answer!

It depends on a lot of things including your vehicle type, budget, and intended use. We'll go over the selections for the best kind of roof rack across all of the major categories from the industry leaders in roof racks: Thule. 
Style of Roof: Bare or Raised Rails
This is the first thing to determine: does your vehicle have raised rails, a track, or is it a bare roof?
This will affect the kind of roof rack you get. These different kinds of roof racks come with different mounting systems, so it's important to make the right choice!
Best Roof Racks for Bare Roofs
For bare roofs, a solid budget option is the
Thule Square Bar for Bare Roofs
. If you're willing to spend a bit extra and want to cut down on wind noise when you're on the highway, then check out the
Thule Wing Bar for Bare Roofs
.
Best Roof Racks for Raised Rails
If you have raised rails, you also have Square Bar or Wing Bar options, depending on your budget.
Best Roof Racks for Flush Rails, Fixed Points, and Tracks
This is the last major category of roof style to take into consideration when finding the best rack for your vehicle. This category also has similar bar style options as the first two: Square Bars and Wing Bars.

Important Note: Regardless of which roof rack you decide to get, you need to also have the right fit kit! Each roof will have unique dimensions, and these fit kits ensure your new rack fits your roof as snug as possible

Our staff will reach out to you if you order a rack online, to ensure you have the proper fit kit!

And of course if you visit either of our Calgary of Edmonton locations, our staff will be happy to help you. For any further questions or concerns, feel free to contact us using the information at the bottom of this blog post.
Best Kinds of Roof Rack Cargo Boxes
One common reason people get roof racks is for more storage. This can be for extended road trips, for seasonal gear like camping equipment and golf clubs, or simply because they need more storage than their vehicle can offer on its own.

From there, you can get entry level bags meant for temporary use. Products like the Thule Outbound and Interstate meet this need.

If you want something robust, but still cost effective, then check out the Thule Sidekick for a universal, basic, hardshell box.

If you're in the market for a box that is more aerodynamic and has premium features like being easier to remove from your rack, then there are quite a few options!

Thule has the Pulse, Force, Motion, and Vector family of boxes, all in increasing price as they have better design and better features.

For guidance on finding exactly the best Thule cargo carrier for you, then check out [Which Thule Roof Box is Right for Me] 

And if you have an SUV and are wondering how to fit a cargo box, then check out [How to Figure Out What Cargo Roof Box Will Fit My SUV].
Best Roof Racks for Bikes
If you want to carry a bike on your new roof racks, you have 3 basic options to choose from:

If you're OK with removing the front wheel from your bike and attaching the axle directly to your rack, then have a look at the Thule Topride or the Fastride.

For a quicker option that attaches directly to your frame, have a look at the Thule Proride.

Important note: this is not recommended if you have a carbon frame, as it can cause damage from rubbing.

If you want to protect your frame, have a fatbike, or just want a great option to quickly get your bike on and off your roof rack, then have a look at the Thule Upride.

For the full scoop on considerations for roof bike racks, or bike racks in general, have a look at our instructional video below:
Best Roof Racks for Kayaks, SUPs, and Canoes
As paddlesports specialists, it should be no surprise we carry a range of Thule rack products for transporting your boats and SUPs!

There are quite a few options so we'll just cover a few below. If you want to check out the full range then have a look at our [Thule Kayak/Canoe/SUP Racks Page].

If you're looking for a little help getting your large or heavy kayak on the roof of your vehicle, then the Thule Hullavator is a top choice! Check out the video below for how it saves you, and your body, from having to awkwardly hoist your kayak onto your roof if you have a heavy boat, tall vehicle, or mobility issues.
If you're after a more conventional, and cost-effective, option for securing your kayak to your roof, then the Thule Hull-A-Port is a perfect option. For a full review and see it in action check out [Thule Roof Rack and Hull-A-Port XT] review from our recreational and touring kayak ambassador Bryan Hume.


Looking for a way to transport your canoe or SUP?

Then the Thule Portage Canoe Carrier or Thule SUP Taxi will each help you transport your gear in style and protect it from dings.
Best Roof Racks for Skis and Snowboards
Finally we get to roof racks to help get your gear to the slopes when you have a vehicle packed with friends, or just want to keep your interior dry and cozy.

For this, we recommend the classic Thule Snowpack.

And if you want to transport more than just your skis/snowboards in winter, you can still fit them in a cargo box along with other stuff.

To learn more, check out our Thule Snowpack review. 
What is the Best Type of Roof Rack Summary
So those are some of our top choices for the best kinds of roof racks! And with Thule, you can't go wrong and their products will last you many years and pay themselves back with the enhanced convenience for transportation and the protection they offer.

But, we know there's still quite a few options to sort through. If you have any further questions, please contact us and our staff would be happy to assist you.

Also visit us in store if you want to check out any of this awesome gear for yourself. Our staff are always ready to assist you in mounting your new racks so you can make your purchase and leave hassle-free ready for adventure.


Roof Racks Calgary/ Roof Racks Edmonton Contact
Edmonton:  (p) 780 463-4892 (e) info@aquabaticsedmonton.com
Calgary:  (p) 403 288-9283  (e)  info@roofrackscalgary.com 
---