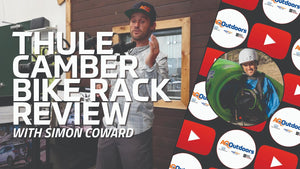 Thule Camber 2 and 4 Bike Hitch Rack Review
This review is a look at the Thule Camber 2 and 4 bike hitch racks: their features, pros/cons, and other advice to help you decide if it is the bike hitch rack for you.
The Thule Camber 4 and the Thule Camber 2 bike racks are middle of the range price wise, but fairly highly featured hitch mount bike carriers. They're a hanging style bike carrier, as opposed to a tray mount like the Thule T2 Pro or other similar offerings.
Thule Camber Features
Here we'll go through some of the features of the Thule Camber bike hitch rack. The 4 can hold up to four bikes and 2 on the Camber 2.
Extra Spacing Between Bikes
What Thule have done with this is they've put about seven inches or so of space between each of the bikes, which creates a slightly longer profile than other bike racks in this category, but it gives more separation of the bikes. So there's less chance of frame to frame contact.
Anti-Sway
They also have an anti-sway mechanism. It attaches to the down tube and stops the bike moving laterally. This is another great feature that helps prevent bike to bike contact.
Low-Profile Quick Stow and Trunk Access
The Thule Camber 2 and 4 bike hitch rack can be stowed away when you're not using it. Another really nice feature, that's not common in the middle of the range bike carriers, is if this is on the back of an SUV (or any other vehicle) where you need access to the trunk, you're able to lay the rack down with a simple lever. This gives you easy access to the trunk that also works when the bikes are on it, not just when they're off, which is really nice. 
Assembly
The Thule Camber 2 or 4 fits out of the box in a 1.25 inch or 2 inch hitch receiver. It's nice that you have that flexibility right out of the box, and it's very quick and easy to put together.
It's also quick and easy to put on and take off of your vehicle. All you need is a simple hex to fasten the Thule Camber 2 or 4 bike hitch racks to your vehicle. 
Thule Camber Pros
The pros with the Thule Camber is that it's a really simple and easy to use rack.

The price is really good for the features you get.

Thule has a lifetime warranty on all of their products–you can feel confident knowing you're buying something that's backed by the manufacturer.
Thule Camber Cons
Some of the downsides are if you have full suspension bikes, sometimes they don't fit super well in these cradles. If you do have higher end bikes, be aware there is still potential for bikes to bounce together. And there's a lot of frame contact on them, between the bike and the Thule Camber rack. So there is potential for wear.

Another potential downside is that the fit into the hitch receiver is not quite as secure and snug as the higher end hitch bike racks. Those higher end racks have an expanding system in the hitch. This extra element really snugs up the whole rack and prevents unnecessary movement.

The other downside is it doesn't come with the security that a higher end rack might come with. The Thule Camber 2 and 4 are not locked to the hitch receiver, they are just threaded in with a hex.

You also don't have a built-in bike lock mechanism either. But to be perfectly honest, I've had a bike stolen utilizing that lock mechanism. It's really just to keep the honest people away.

If you're gonna lock any bikes up, I would really strongly recommend getting a heavy duty chain or a heavy duty cable to lock it up, and not just relying on the built-in security, regardless of which rack you buy. So thanks so much for checking in.
Thule Camber 2 and 4 Bike Hitch Rack Review
If you have any questions, please feel free to contact either of our stores. We love to answer your questions and help you find the right bike rack!
AQ Outdoors/ Roof Racks Calgary/ Roof Rack Edmonton Contact
Edmonton:  (p) 780 463-4892 (e) info@aquabaticsedmonton.com
Calgary:  (p) 403 288-9283  (e)  info@aqoutdoors.com
---