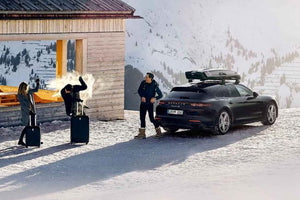 How to find the right Cargo Carrier for you and your vehicle
Finding the right cargo box can be an intimidating endeavor. There are so many makes, models, and sizes to chose from, how would anyone know which one will work best for them?
This guide is designed to highlight some of the important factors to consider when choosing a cargo carrier option for your life and your vehicle and hopefully help you find the right solution for your needs.
There are 6 key points to consider when purchasing a Cargo carrier;
Size (what do I need to carry?)
Hatch Clearance (can I still get into my trunk?)
Height (do I want to park in a garage, parkade?)
Fuel Economy (will this impact my range?)
Noise (do I prefer the Symphony or Hair Metal?)
Quality/Appearance (what justifies the higher price tag?
Size
The most important factor in determining which box will work best for you is Size. Cargo carriers are measured by Cubic feet or Cubic ltr, but for the most part those numbers wont really help you determine which size will suit you best.
The first question we ask customers when they are checking out their options, is what are you looking at carrying?
As a skier/snowboarder I always look at cargo carriers as "ski boxes" and if you are anything like me your first question may be how long of skis can I fit in this carrier? For a skier this is a great first detail to consider as it will help thin out the options quite quickly.
If you have skies over 180cm, or classic cross country skis, With Thule look for the alpine specific, XL, or XXL sizes of cargo carrier. Boxes in the M or L sizes are going to be too short for your longest skis. For Yakima Consult their gear charts below.
Once you've determined what will fir your gear we need to look at the fit on your vehicle.
If you have crossbars on your vehicle already then your are good to go and can essentially put any cargo carrier on your car. However, there is a couple considerations you should make before running out and buying the largest cargo box you can find.
Hatch Clearance
Hatch Clearance is the amount of space you have from the center of your front crossbar to your hatch(trunk/boot). This will determine the size of cargo carrier you can fit on your roof and still be able to fully open your trunk without it touching the box. If you are with limited head space when grabbing something from the back, don't let this be a limiting factor for you. If you are only off by an inch or so you will still get good room to work underneath and it shouldn't hurt either the box or your vehicle.
Another thing to note is that some Auto-opening/closing trunks allow you to set a limit manually so you can adjust the height your trunk will open and stop prior to making contact with the box. Check your vehicle information for more info on setting that up on your specific vehicle, but generally its just a button press and hold on your trunk close button.
To determine the hatch clearance on your vehicle open your truck and take a measurement from the front crossbar right up to the closest part of your trunk level with your crossbar. This is often a small lip or spoiler on most SUVs, hatchbacks, and Vans. If you have a sedan or truck than you have nothing to worry about!
If you don't yet have a crossbar setup on your vehicle, the fit instructions should have this information which can be checked ahead of time. Yakima also sometimes has the hatch clearance listed on their fit website if you search my your make/model/year of vehicle and the crossbar type you plan on installing, either factory or Yakima product.
https://fitlookup.yakima.com/
Once your know your hatch clearance check the manufacturer size charts to find your ideal fit. If you have a number greater than the Minimum Hatch Clearance listed you are good to go!
Thule *Thule Refers to it as Front Clearance*

Yakima
Height
Once you know what you want to carry and what will fit best on your vehicle, make sure to consider if your vehicle will now fit where you want it to go. If you typically park in a garage or underground parking lot, depending on the height of your vehicle, crossbar type, and box height, the garage may no longer be an option with the cargo box installed. All cargo boxes we carry come with lifetime warranties, however they won't cover damage caused by forgetting your new vehicle height restrictions when you try to pull into your garage or regular underground parking lot.
This can be the tricky point for a lot of customers. You will need to determine your height clearance from the top of your crossbars to the low point in your garage.
If you do not have a crossbar setup on your vehicle expect to add the following heights:
Naked Roof System: 5"
Fixed Points or Flash rail: 5"
Raised Siderails: 2.5"
You may also consider lower height crossbar options such as the Thule Edge systems for Yakima Railbar/Flushbar.

For minimal height options for Cargo boxes check out the Thule Pulse Alpine (11"height), Motion XT Alpine (13"height, and Yakima Skybox Lo (11.5"height). 
Fuel Economy
Now just a couple less crucial points to consider. Any cargo box you put on the roof of your vehicle will impact your fuel economy. This can range anywhere from 0.2 liters/100km up to 1.5ltr/100km
The lower the height, the less dramatic the impact will be. Also the further back you can place the cargo box on your vehicle the less impact it will have. Boxes that overhang the windshield will have a significant impact on your overall fuel economy.
Noise
In general a cargo carrier should not be noise, however less expensive models will use thinner materials and have less reinforcement to the underside of the box. This generally means that a less expensive empty cargo carrier will have some rattling noises when going over bumps.
More expensive carriers use thicker materials, often have a more aerodynamic shape, and support the underside and attachment points with metal of composite materials to eliminate any rattling noises. If you are a stickler for a quiet ride avoid the entry level price point models.
Quality and Appearance
The last thing to consider are the fine details. Your vehicle is one of the larger investments most people make and one that everyone takes a sense of pride in. Just like the sports trim package, or aftermarket rim options, there is nothing wrong with finding the cargo box that matches your style of vehicle the best.
Our advice is Try it On! You won't really know how it looks unless your pop it on the vehicle and take a look for yourself. Cargo carriers are incredibly easy to take on and off nowadays, so just ask to give it a go and see how it looks. We would be happy to help out with a quick fitting to make sure it looks the part and our measurements are all up the spec.
Other than the appearance, there are also a few benefits to spending a bit more money. Generally the higher price boxes will have slicker mounting hardware making taking the box on and off a cinch, use stiffer longer lasting materials, and have better locking mechanisms making "overloading" the box a bit easier as the locks don't require any torque being put on the key. You will also get double sided openings, gel coat finishes in multiple colour options, and lower profile, more aerodynamic designs.
Well there you have it. Maybe an overly complex guide to buying a cargo carrier, but  we're sure if you follow this guide you will find the perfect carrier to meet the current needs of your family, vehicle, and next adventure.
Team@ Roof Racks Calgary
---