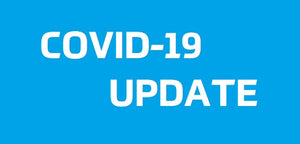 COVID 19 Update - We are Open - With some restrictions
We are pleased to announce that both our Calgary and Edmonton locations are now open with regular(ish) summer hours.  We have implemented a bunch of important changes to ensure the health and safety of our staff and customers.  You will notice the following new measures when you next visit us
We are following all recommendations and guidelines for Stage 1 retail business operations
Access will only be through the bottom door of the shop.  It will be locked or manned during business hours
We are limiting the total number of staff and customers to 8 in the store in CALGARY.  It is a small space and we cannot maintain physical distancing with more than that inside.
In EDMONTON we have less staff and a smaller space.  With this in mind we will only be allowing a maximum of 5 people in store, made up of our staff and a maximum of 2 households. 
Shopping will be a more 'guided' experience.  When you are in store a staff member will be with you for the duration of your visit
During busier times we are asking visitors limit their time in store to 20 minutes.
We will be encouraging low-touch shopping
Increased cleaning protocols
There is a handwash station upon entry that all customers and staff are required to use.
We are also screening staff daily for symptoms and we ask customers to please shop online if showing any signs or symptoms.
We are currently working on our policy and procedures for our kayak school and rentals.  We will be announcing those later this week.
Curbside Pickup, Local Deliveries and Free Shipping  
We will continue to offer curbside pickup, free shipping across Canada (on orders over $100) and free local deliveries in the coming weeks.  We know some of you will prefer to continue shopping online and we encourage and support that choice.  Our staff are on hand during business hours in both locations to take phone calls and provide product and purchase information.
You can call us in Calgary at 403 228 9293, Edmonton at 780 463 4892 or toll free at 1 877 440 9283.
Thank You!
The last few months have been a learning curve and a HUGE challenge (for us and many others.  We have been continually humbled by the support and outreach we have received over the last few months.  
We just want to say a massive thanks to our fantastic community for the ongoing support, kind words and all you have done for us!
---