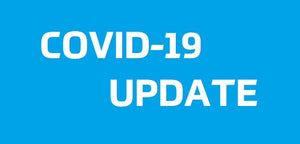 COVID-19 UPDATE, MARCH 27TH, 2020
Hello Everyone,
As this situation evolves super rapidly, we are having to pivot almost daily to keep up.  As we announced earlier this week our Edmonton store is was closed to the public, our Calgary store is now also closed to the public.
We are however going to be staffed from 10am to 4pm Tuesday to Saturday, where Tom and I would love to take phone calls, answer emails, or even package up the order order or 3!
We are continuing to service both our Edmonton and Calgary customers with the following:
👉Weekly to your home, contact free deliveries.  Daily in Calgary and every Thursday in Edmonton
👉Full web and phone support through our Calgary location
👉Gift cards are available for purchase online and can be physically sent to you or applied as an online code (see link below)
👉Live Stream product information, rack videos and interviews through this facebook page.
👉Our ONLINE BOAT SWAP and GEAR SALE is going to be a great day of interactive fun and sales.  Mark the date for April 18th!  More info here
CURBSIDE PICKUP PROTOCOL IN CALGARY
If you are coming by to pickup an item, please call us at 403 288 9283 in advance within business hours
When you arrive, give a good solid knock on the bottom door (by the sea can)
We will have your order ready to go, we ask you step back behind the concrete barrier, we will then place your item outside the door, and once we are back inside you are free to grab it.
We will provide a hearty virtual high 5 and will catch you in person once all this clears up!
With the need for social distancing we have brainstormed on how we can continue to be a support to the local and greater area paddling communities. 

Currently we are working on implementing the following:
Online Live Stream product and paddling information sessions. These will be done in a forum where attendees can ask questions in real time, and will function much like an in-store interaction
We are  offering weekly 'Contact Free' deliveries in Calgary and Edmonton.
Our tradeshow season has been shut down; these are normally the source of some great deals for early season paddlers. We will be offering these online shortly.
The big one is our annual Boat Swap is cancelled. We are looking at options for doing a fun, online version of this. Stay Tuned for more information
Thanks everyone for your support and friendship over the years. We will continue to do our best to return the favor and plan on being here for many years to come. We will also practice what we preach and continue to support local businesses both in-store and online.
We hope that the aggressive measures in place make for a speedy resolution to this situation.
Stay Safe and Healthy
Sincerely,
Simon Coward and the Roof Racks Calgary Team
---